Private Models
You have the option to set models as Private from the Model Properties window. Selecting this option will restrict visibility and access to the model to only yourself and any other users you specify.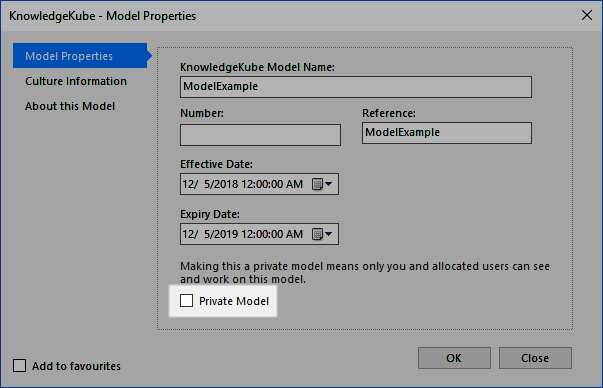 The Private Model option in the Model Properties window.
After making the model private you can control which other users can access it.
Implementation:
Open the Model menu in the main KnowledgeKube window.
Select Users to open the Model Users window.
Switch to the Available Repository Users tab.
Select a user you want to authorise then select Add User to Model. They will then have immediate access to your model, and will appear in the Authorised Model Users tab.
If you no longer want a user to have access to your model, select them in the Authorised Model Users tab and press the Remove User from Model button. This change is effective immediately.
If a removed user has added the model to their Favourites list, the model will show as deleted if they try to access it.
(Optional) If you want to transfer ownership of a private model to someone else, select the user you want to be the new owner and click the Make User the Model Owner button. The change will take immediate effect and you will be automatically added as an authorised user, though the new owner can still remove you.